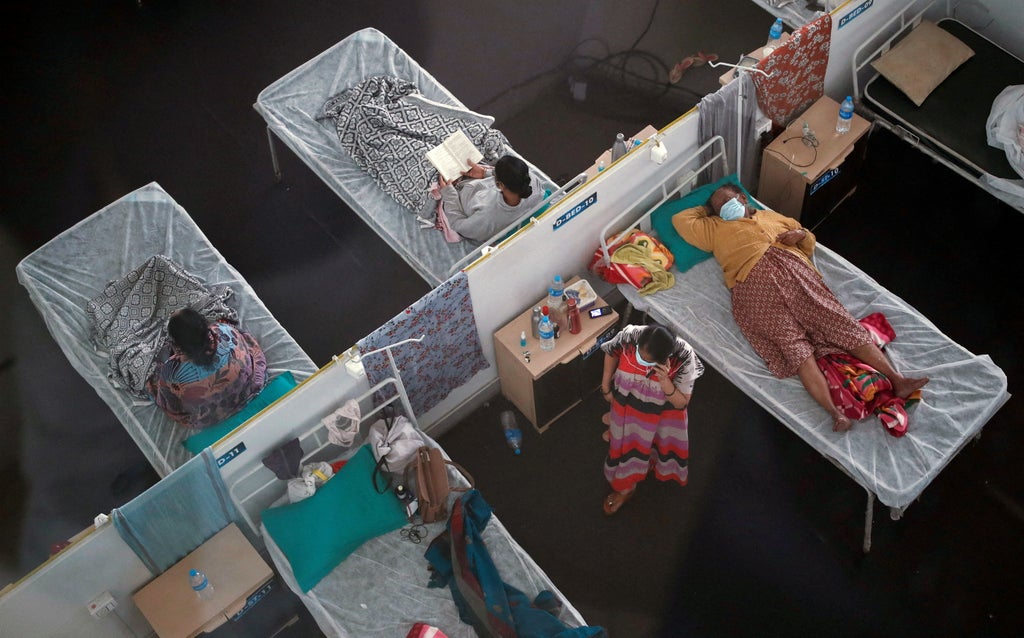 India has again reported a sharp rise in Covid-19 deaths amid an emerging third wave in the country amid the global spread of the Omicron variant.
In the last 24 hours ending Wednesday, India saw a sharp spike of 194,720 Covid cases: a surge of 15.86 per cent from Tuesday's count of 168,063 infections.
The number of deaths also rose to 442 compared to the 277 reported on Tuesday, an almost 60 per cent increase.
The country has reported a total number of 484,655 Covid deaths since the pandemic began, a figure which experts say is likely an understatement of the true toll.
The daily infections rose by more than 223 per cent in the span of a week from last Wednesday (5 January) when a spike of 60,000 cases was recorded.
The exponential rise in infections was recorded as the Omicron variant of Covid blazes through Indian states, pushing the tally of active cases to 955,319 and increasing the daily positivity rate — the percentage of tests that are returning positive results — to 11.05 per cent.
India's prime minister Narendra Modi chaired a second high-level meeting within a week since Sunday to assess the pandemic situation, health infrastructure preparedness and the spread of the Omicron variant, the health ministry said in its briefing on Wednesday.
The third wave of the pandemic has hit India just as the country was gradually limping back to normalcy with the recession of cases, following the crippling second wave from April to May.
An unprecedented 400,000 cases were reported during the second wave at its peak, bringing the country's healthcare system to its knees.
Despite the rise in cases, political leaders including the prime minister have held crowded election rallies ahead of five important state elections that are still scheduled to go ahead in February. Campaigns have been in full flow for a month, though such rallies were finally suspended this week by the Election Commission.
India has so far recorded 4,868 cases of the Omicron variant that is now present in all 28 states.
Experts have, however, raised doubts over this number and suggest it does not reflect the true scale of the variant's spread as only about one per cent of tests are genomically sequenced in the country.
Raising concern over the steep rise in cases, Lav Agarwal, a top official in the country's federal health ministry, announced revised discharge guidelines based on the severity of disease after consulting Mr Modi.
"Moderate case – if there is a resolution of symptoms, the patient maintains O2 saturation greater than 93 per cent for three successive days (without oxygen support)… such patient(s) will be discharged as per the advice of treating medical officer (sic)," he said.
"The mild case [to be] discharged after at least seven days from testing positive and no fever for three consecutive days," he said.
The health ministry underscored in the briefing that eight states – Maharashtra, West Bengal, Delhi, Tamil Nadu, Karnataka, Uttar Pradesh, Kerala and Gujarat – were areas of particular concern with high positivity rates.
In the national capital Delhi, hospitals are witnessing an increase in the number of intensive care unit hospitalisations, with 523 patients in critical care units, compared to 279 just three days ago, according to data from Delhi's health ministry.
As many as 84 people remained on ventilators compared to 27 three days ago as the city reported an overall surge of 20,000 infections on Wednesday.
Meanwhile, the highly transmissible variant is continuing to infect police personnel and doctors across the country, presenting a challenge to the country's Covid surveillance and treatment efforts.
About 1,700 Delhi police personnel have tested positive for Covid since 1 January, police said in a statement on Wednesday.
At least 750 doctors in six major government hospitals in Delhi alone have contracted Covid. And as many as 481 resident doctors in the western Maharashtra state have also tested positive in this wave so far.